南台別院 x Nunu Fine Art : 傳統延續 x 創新 公益講座
荷蘭藝術家Kees Goudzwaard前往台南進行⾊彩探索工作坊及藝術講座
Nan Tai Temple x Nunu Fine Art : Kees Goudzwaard's Colour Workshop and Artist Talk in Tainan
活動日期 | 9⽉8日 19:00 - 20:30
活動地點 | 台南市永華路二段161號
承辦單位 | 佛光⼭南台別院 / 空間美學成長營 / 路由藝術
Date | 8th, Sept. 19:00 - 20:30
Address | No. 161, Sec. 2, Yonghua Rd., Anping Dist., Tainan City
Organizer | Nan Tai Temple / ArchDesignCamp / NUNU FINE ART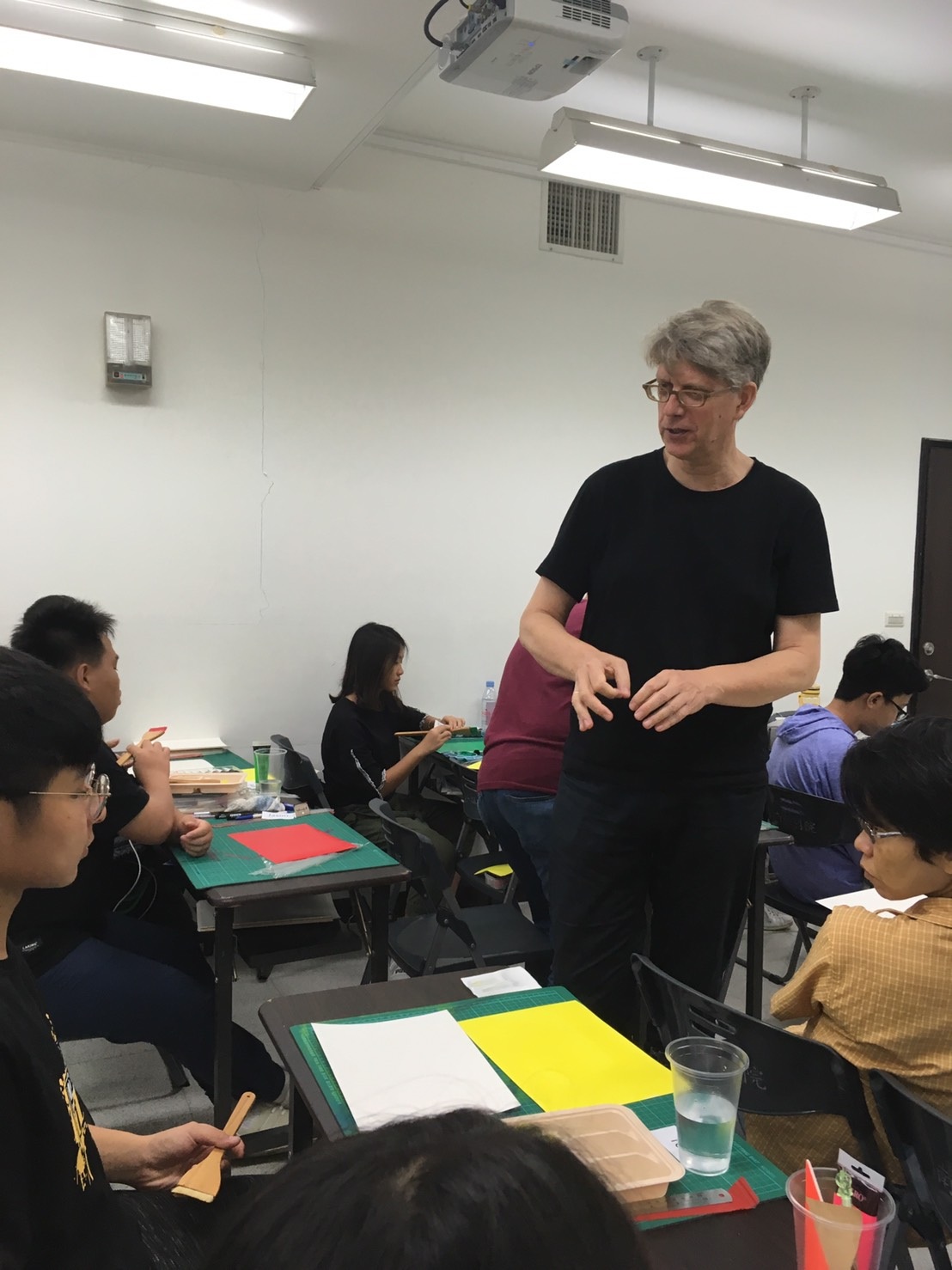 Event
Kees Goudzwaard's works which at first sight appear to be minimal colour studies constructed from rectangles of paper and masking tape. But seen close up, the works are revealed as painstakingly created oil paintings. He develop oil paintings of abstract collages, the process is slow and complex but also aesthetical and conceptual. The slow process of creating the paintings allows Kees to capture time as a solid entity. This is why his creating process becomes conceptually important. To let more people know and understand Kees's work and its concept, Nunu Fine Art not only hold Kees Goudzwaard's solo exhibition in Taipei site, but also collaborate with Fo Guang Shan Nan Tai Temple to hold Artist Talk in Tainan. In Artist Talk, Kees Goudzwaard will share how he communicate with viewer by a purely pictorial universe made of colour, space and depth; a universe made of transparencies, borders and grids and it testifies to painting's unabashed communicative power.
Workshop
The students choose their favorite color and paint on the papers. Kees said this is the basic skill of painting. The brush have to completely soak in the color and paint it on the paper equally.
Follow Kees Goudzwaard's direction , each student turns three original colors into nine different colors, and cut the nine color papers into triangles to form a bigger triangle. Then each student brings their own big triangle and put them together on a white fabric. Kees will lead the students to watch and think about how to arrange these triangles during the process.
Kees said the models he created have difference size. He will imagine the final image of the model, then adjust the position of the color elements. Base on this idea, students of workshop will discuss with each other, look at the triangles, think the position, and rearrange it for the perfectly final image. Just like experience the creating process of Kees.
活動介紹
荷蘭藝術家基斯·古祖瓦德(Kees Goudzwaard)以傳統繪畫方式重新繪製抽象拼貼,作品從拼貼到油畫的過程雖然漫長且複雜,但過程充滿美學與概念,時間在他的創作過程中被記錄下來,因此基斯·古祖瓦德的作品看似為極簡的⾊彩習作,實為一幅精心製作的油畫,因此背後的創作手法與概念顯得更為重要。為了讓更多⼈認識及了解基斯·古祖瓦德的作品概念,路由藝術除了在台北空間舉辦個展及對談外,同時也與台南的南台別院合作,舉辦一場色彩探索工作坊及以「傳統延續與創新」 為主題的公益講座,邀請藝術家基斯·古祖瓦德帶大家深入他的作品,了解他如何⽤用沈默、不具故事內容的作品,僅以顏⾊、空間與深度構築的純粹世界;透明度、界線與網格所組成的宇宙,直接與觀眾進行對話,體現繪畫無懈可擊的溝通能力。
工作坊介紹
學員們選擇⾃己喜歡的原色,將顏料畫在紙張上。藝術家Kees說這是繪畫的基本功,刷⼦需充分沾滿顏料,再以平均的⼒道將顏料刷在紙張上。
在Kees Goudzwaard的指導下,每位學員把原先三個原⾊調成九種不一樣的⾊色彩,再將九種顏色剪成三⾓形,拼成出大的三⾓色塊。每位學員帶著⾃己的三⾓色塊,⼀起拼組到大張的⽩布上,拼組的過程中Kees Goudzwaard都會帶領學員一起觀看、思考,討論如何怎麼排列這些三角⾊塊。
Kees表⽰自⼰創作的模型有⼤有⼩,在拼組的過程中會試著想像模型最後的樣貌,然後不斷修正⾊塊的位置。因此工作坊的學員透過討論、觀看、思考、重新排列組合的過程,就像實際體驗Kees創作過程的一部分!